KHAN'S PALACE, 16th-18th c.
The palace complex Includes: the main building, Sokolyna tower, a garden with a harem building, the khan's mosque (1740), a cemetery, rotonda, tombs (dyurbe), which are the most prevalent architectural monument In the Crimea. Since 1955 the Bakhchysarai Historical-Archaeological Museum has been housed in the palace buildings.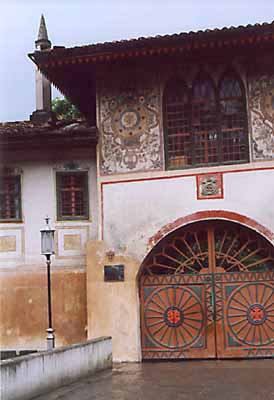 Back to the Crimea Photo Gallery




Black Sea Tours

7227 North 16th Street, Suite 240
Phoenix, AZ 85020
(602)553-8178
fax (602)468-1119

Contact Us



THIS PROGRAM IS THE SOLE PROPERTY OF BLACK SEA TOURS AND MAY NOT BE COPIED IN ANY WAY OR FORM WITHOUT EXPRESS PERMISSION FROM BLACK SEA TOURS.

© COPYRIGHT 1996-2023 - ALL RIGHTS RESERVED.