FEODOSIYA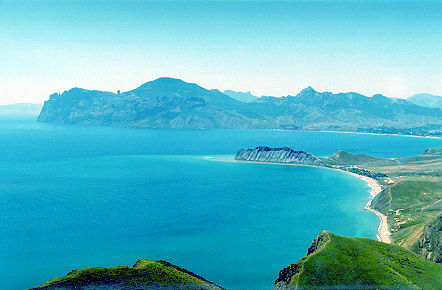 City on the shores of Feodosiya Bay, 116 km from Simferopol, a railway station. Population: approximately 80,000.
Founded in 6 B.C. Was destroyed by the Huns in the 4th c. and by the Alans in the 5th-6th c. Was the main slave-trading market during the 16th-17th c. In 1616 Ukrainian Kozaks, under the command of Hetman Petro Konashevych-Sahaydachny, attacked Kafa, destroyed the Turkish fleet, and liberated many captives. In 1667 a similar attack was led by Kozak chieftain I. Sirko.
HISTORICAL AND ARCHITECTURAL MONUMENTS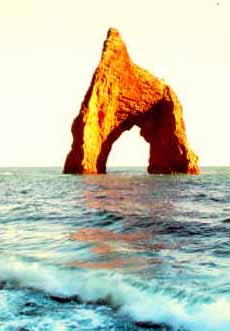 ARMENIAN CHURCH OF ARCHANGELS MYKHAYIL AND HAVRYIL (MICHAEL AND GABRIEL), 1408.
Built in the style of Armenian church archi-tecture. Restored in 1967-1970.
GENOESE FORTRESS, 14th c.
Located in the northern part of the city, above Feodosiya Bay. Was a citadel of ancient Kafa's (Feodosiya) city fortifications. In the 18th and 19th c. most of the structures were dismantled. The following structures are located on the territory of the fortress: Tower of Klyment (1348), Tower of Krisko (14th c.), Armenian church of Ioann Predtecha (John the Baptist) (1348), St. Ioan Bohoslov (St. John the Divine) (14th c.), St. Heorhiy (St. George) (14th c.), St. Stefan (14th c.), et al. Many structures have been restored.
CITY FORTRESS, 14th c.
Located in the old part of the city. In 1266 the Genoese wrested control over Kafa from the Golden Horde. In the 14th c. they began to build the fortress. Located on its territory are the fortress walls (14th c.), tower of St. Konstantyn (Constantine) (1382-1448), tower of St. Foma (St. Thomas) (1373), tower of G. di Scaffa (1342).

Back to the Crimea Photo Gallery




Black Sea Tours

7227 North 16th Street, Suite 240
Phoenix, AZ 85020
(602)553-8178
fax (602)468-1119

Contact Us



THIS PROGRAM IS THE SOLE PROPERTY OF BLACK SEA TOURS AND MAY NOT BE COPIED IN ANY WAY OR FORM WITHOUT EXPRESS PERMISSION FROM BLACK SEA TOURS.

© COPYRIGHT 1996-2023 - ALL RIGHTS RESERVED.